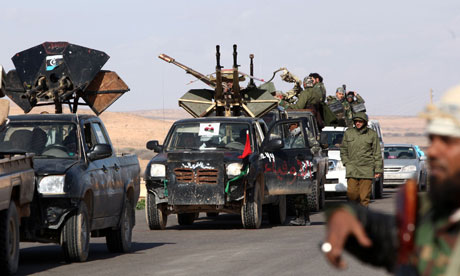 Fighters return to their old frontline after war crimes suspects released and four soldiers killed in attack on local garrison.
A powerful sense of deja vu grips the men of Libya's national guard as they mass for battle in the freezing desert outside Bani Walid, the new frontline of a war most had thought was long over.
Last October many of these same fighters battled their way into this desert town, one of the last pro-Gaddafi redoubts to hold out against the rebels.
Now they are back again after fighting this week killed four soldiers and forced the closure of a small government garrison. Several dozen former Gaddafi administration officials arrested for war crimes by the garrison in recent weeks were sprung from jail during the uprising.
The town, home to the powerful Warfalla tribe, has become a no-go area for government units and the militias, drawn from units across Libya, are ready to launch a new offensive unless local leaders allow them back in - and round-up war crimes suspects.
"There are three hundred pro-Gaddafi guys in that town," says Suleiman Hatir, a fighter from the eastern town of Tobruk. "They have committed crimes and they are living in Beni Walid."
Read More