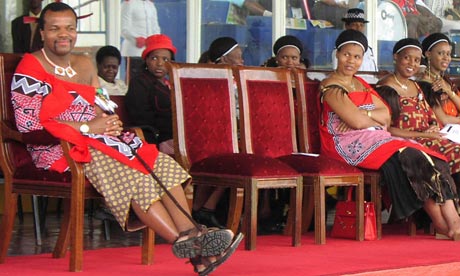 Swaziland's King Mswati III accused by activists of human rights abuses and of looting national wealth.
Coca-Cola has been accused of propping up one of Africa's most notorious dictators.
The multibillion dollar beverage company owns a concentrate-manufacturing plant in Swaziland, an impoverished kingdom ruled by Africa's last absolute monarch, Mswati III.
The king has travelled to Coca-Cola's headquarters in Atlanta in the US, much to the disgust of Swazi political activists who blame him for human rights abuses and looting the nation's wealth.
Mary Pais Da Silva, co-ordinator of the Swaziland Democracy Campaign, called for Coca-Cola to pull out of the country immediately.
"Coca-Cola must know they're doing business with the wrong people," she said. "At the end of the day it doesn't benefit the economy in any way. Their profits don't help the average Swazi, while the king is getting richer by the day." She added: "The king is milking the country. This is entrenching him more and more, giving him economic strength to crush opposition. Nobody should do business with the regime in Swaziland. They should cut ties and take their business elsewhere." Read More