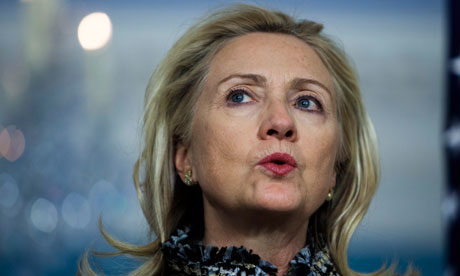 Resolution calling for Bashar al-Assad to step down wins support of 10 security council members necessary to force a vote.
Hillary Clinton, William Hague and Alain Juppé are due at the UN security council in New York on Tuesday to support an Arab League plan to end the violence in Syria and to try to overcome Russian-led opposition to a UN-backed demand for political change in Damascus.
As Syrian forces poured into Damascus districts to wrest them from rebel control, a joint European-Arab resolution calling for Bashar al-Assad to hand power to his deputy as a prelude to political transition won the support of the 10 security council member states necessary to force a vote.
Diplomats at the UN said that a vote on the resolution, formally presented by Morocco, was likely by Thursday, after the council considers a report on the Syrian situation by the Arab League secretary general, Nabil Elaraby, and the Qatari prime minister, Hamad Bin Jassim, on Tuesday followed by an ambassadors' meeting on Wednesday aimed at finding a compromise formula acceptable to Russia, Assad's principal supporter on the world stage.
"We believe the UN must act to support the people of Syria and that Russia can no longer explain blocking the UN and providing cover for the regime's brutal repression," a Downing Street spokeswoman said.
Read More