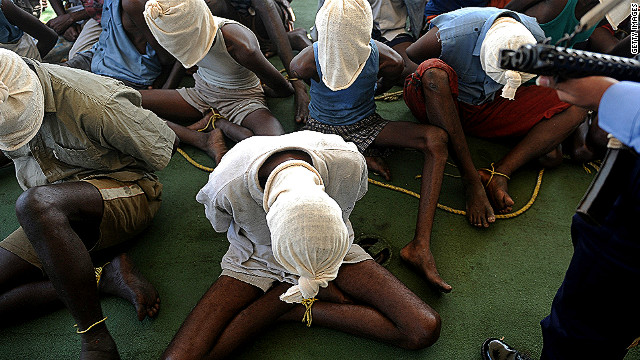 A British report issued Thursday called for "decisive action" to contain the growing problem of piracy off the coast of Somalia.
"We conclude that for too long there has been a noticeable gap between the government's rhetoric and its action," said the 210-page report, issued by the House of Commons Foreign Affairs Committee. "Despite nine U.N. Security Council resolutions and three multinational naval operations, the counter-piracy policy has had limited impact. The number of attacks, the costs to the industry and the price of the ransoms have all increased significantly since 2007."
Over the past four years, the average ransom has risen from $600,000 to $4.7 million per vessel, with 2011's total outlay reaching $135 million, the report said.
Those payments "should be a matter of deep concern to the British government and to the entire international maritime community," said the report, which described the government as "disappointingly slow to track financial flows from piracy." Read More

Note: Start by locking them up when you catch them, instead of letting them go with gifts.
Article April 2011:
Royal Navy Bows to the Pirates: Shame as Navy seizes 17 armed Somalis, gives them halal meat and nicotine patches... then sets them free!


When a Royal Navy warship captured a crew of Somali pirates, it seemed like a rare chance to strike back at the ruthless sea gangsters.
The 17 outlaws were armed with an arsenal of AK 47s and rocket-propelled grenades, and had forced hostages on a hijacked fishing vessel to work as slaves for three months.

But instead of bringing them to justice, the British servicemen were ordered to provide the pirates halal meals, medical checks, cigarettes – and in one case even a nicotine patch – before releasing them in their own boats. (seems UK harsh justice stretches to the seas now) Read More