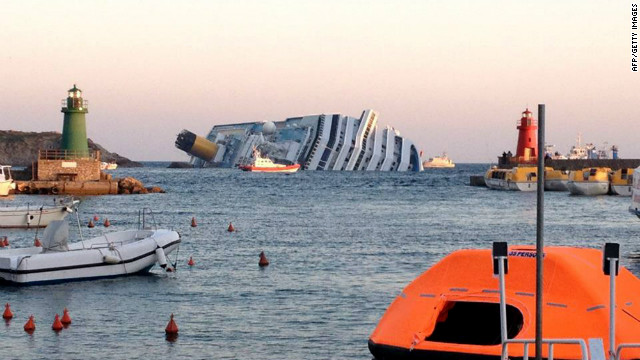 At least three people were killed and scores remain unaccounted for as a giant cruise ship keeled onto its side after running aground near the Italian island of Giglio on Friday night, local emergency officials said Saturday.
Rescue teams worked through the night to evacuate more than 4,000 people from the Costa Concordia, owned by Genoa-based Costa Cruises, after it ran aground off of Italy's western coast.
Giuseppe Orsina, a spokesman for the local civil protection agency, told CNN: "We are verifying the different lists of passengers and staff that have been given to us from Costa and at the moment from 43 to 51 people are missing.
"These people could be still on the island of Giglio, in private houses or in hospitals."
The coast guard said 50 to 70 people could be missing.
Authorities said earlier Saturday they believed everyone was accounted for, but that they did not have a definitive list of names.
The huge ship, which which is now lying on its side in shallow water, was carrying about 3,200 passengers and 1,000 crew members when it ran aground at about dinner time. more