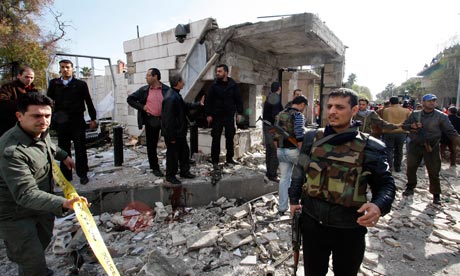 Two huge explosions tore through the Syrian capital Damascus, leaving dozens dead and up to 100 wounded in an attack which officials and state television blamed on al-Qaida suicide bombers.
Opposition activists however pointed the finger at the regime of Bashar al-Assad, accusing it of plotting the blasts to reinforce its narrative that, rather than protesters seeking democratic reform, the nine-month uprising is being driven by Islamists bent on chaos.
The car bombs were detonated shortly after the arrival of Arab League observers in Damascus to monitor the regime's promise to end its bloody crackdown on the protest movement. It is the first time large bombs have been detonated in the capital since the revolt began in March.
Officials said around 40 people, mostly civilians, were killed. "We said it from the beginning, this is terrorism. They are killing the army and civilians," said the deputy foreign minister, Faysal Mekdad.
But opponents of the regime were quick to question this. Omar Idilbi, a member of the opposition group the Syrian National Council, described the explosions as "very mysterious" because they happened in heavily guarded areas difficult to reach by car. Read More