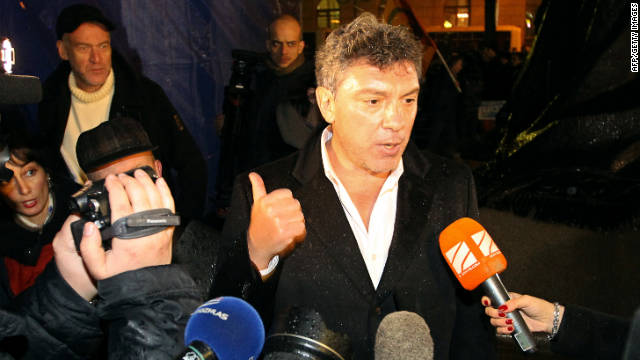 A Russian opposition leader was arrested at an anti-government rally in Moscow on Tuesday, he told CNN by phone, as demonstrators protested against the results of Sunday's parliamentary elections.
Boris Nemtsov, a former deputy prime minister turned government opponent, was detained at a rally held to voice discontent over alleged fraud in the elections, which returned Prime Minister Vladimir Putin's party to power with a greatly diminished majority.
The opposition Other Russia party sent out invitations to the protest via Facebook under the title "Is the Revolution Continuing? Yes!"
About 800 people said they were coming to the rally, but protesters appeared to have largely dispersed as security forces moved into the area, a CNN correspondent at the scene said.
Putin's United Russia is holding a separate rally. Police said there were about 8,000 people there. Read More