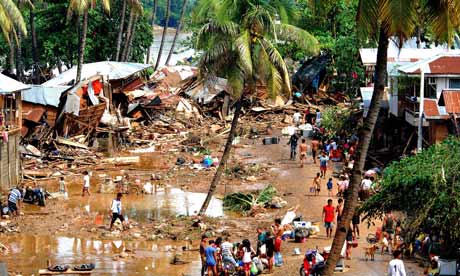 Southern Philippines storm kills more than 250 and leaves 400 missing after bodies swept out to sea in flash floods.
A tropical storm has triggered flash floods and mudslides in southern parts of the Philippines, killing more than 250 people.
Around 400 people remain missing after the storm sent walls of water cascading through coastal cities in the country's Mindanao group of islands. Some of the dead were swept out to sea.
The Philippine National Red Cross (PNRC) said 256 people were killed in Mindanao and another island. Soldiers and police were recovering more bodies washed ashore in nearby towns.
"The death toll might still rise because there are still a lot of missing people," said Gwendolyn Pang, secretary-general of the PNRC.
She said the hardest-hit areas were in the cities of Iligan and Cagayan de Oro. Houses were swept into the sea by floodwaters.
Colonel Leopoldo Galon, an army spokesman, said emergency workers had recovered 97 bodies, most of them children, in Cagayan de Oro. A further 79 people drowned in Iligan.
"I can't explain how these things happened, entire villages were swept to the sea by flash floods," Galon told Reuters. He said the death toll was expected to rise.
"I have not seen anything like this before. This could be worse than Ondoy," he said, referring to a 2009 storm that killed hundreds of people in the capital, Manila. Read More