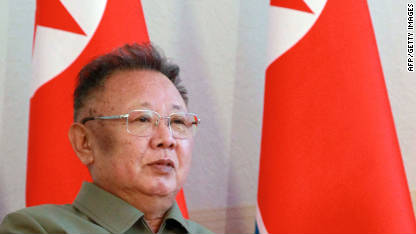 North Korean leader Kim Jong Il is dead, North Korean state TV said Monday.
Kim, 69, died at 8:30 a.m. Saturday, state TV said.
A broadcaster reported that Kim died due to "overwork" after "dedicating his life to the people."
South Korean news agency Yonhap -- which based its reporting on its monitoring off North Korean state television -- said that Kim had died during a train trip.
South Korea's military declared an "emergency alert" following Kim's death, according to Yonhap.
The son of Kim Il Song, the founder of the communist nation, Kim Jong Il had been in power since 1994 when his father died of a heart attack at age 82.
The enigmatic leader was a frequent thorn in the side of neighboring South Korea, as well as the United States. There have been reports in recent years about his health, as well as that power will be transitioned to his son, Kim Jong Un.
more