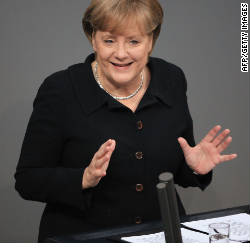 German Chancellor Angela Merkel highlighted Friday the need for fiscal union to resolve the debt crisis that threatens Europe's single currency, the euro, and the global economy.
"Fiscal union is the aim, one with real power. There is no other way," she said. "We are working for treaty change, we want to avoid a split between euro and non-euro countries."
During the speech to Germany's Bundestag, the country's national parliament, Merkel warned it will take a long time to resolve the financial crisis.
"The European debt crisis won't be over within a drum beat," she said.
European Union leaders have come under fire to address the debt crisis over concerns it could unravel the euro.
Merkel described it as a "crisis of trust," saying "politics has failed."
A split of the eurozone into members and nonmembers is not an option, according to Merkel. Read More