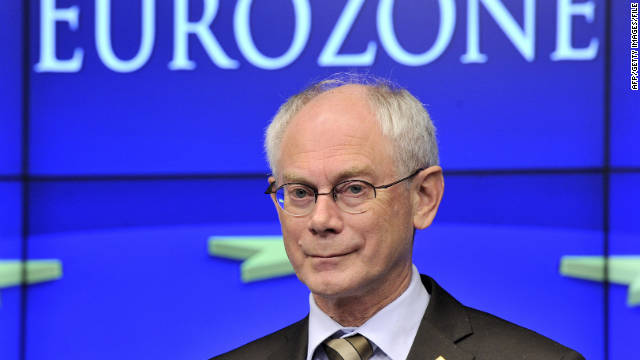 European nations could be penalized by being stripped of some powers if they fail to manage their budgets, according to a memo from European Commission President Herman Van Rompuy leaked Tuesday.
The confidential memo, sent out to leaders ahead of the final European Council meeting of the year at the end of the week, comes only a day after the leaders of Germany and France agreed in Paris on a new fiscal pact they say will help prevent another debt crisis.
But Van Rompuy's proposals, details of which were obtained by CNN, are perhaps even stricter than those of German Chancellor Angela Merkel and French President Nicolas Sarkozy.
The five-page memo proposes that the European Commission could perhaps be given the right to strip voting rights within the European Union from some countries who have been bailed out but are still not meeting their deficit targets
For "member states that are under an assistance program and have consistently failed to meet the conditionality, the (European) Commission could receive exceptional power such as ex-ante approval of all major economic reforms," the document says.
more