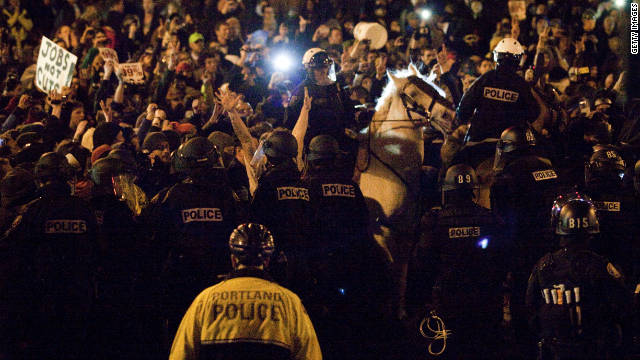 Numerous arrests took place in several Western cities as police moved in to clear Occupy encampments over the weekend, authorities said.
In Portland, Oregon, unrest continued into Sunday morning as protesters defied a midnight Saturday deadline for the Occupy encampments to close, but a tense situation defused later Sunday as police kept park closures peaceful.
One officer was struck in the leg by a projectile thrown from a crowd, and was taken to a hospital, but the injuries were not life-threatening, authorities said. One protester was arrested in a separate incident, said Portland Police Bureau Sgt. Pete Simpson.
Another officer was struck but not injured, Portland police said on Twitter, and a fight broke out early Sunday between protesters.
Video from the scene showed masses of protesters on downtown streets. In the early-morning hours Sunday, police told demonstrators to leave the streets or face arrest. All but two of the demonstrators followed that order, retreating into several parks, CNN affiliate KGW reported. Read More