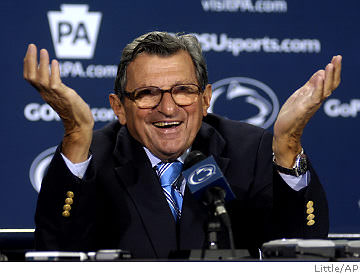 Former Penn State football coach Joe Paterno's long service at the university theoretically puts him in line for a pension of more than $500,000 a year, according to an Associated Press analysis of state public pension records.
Paterno's pension records obtained Tuesday from the State Employees' Retirement System credit him with more than 60 years in the system. The formula used to determine benefits makes him eligible for a pension equal to 100 percent of the average of his three highest-salary years.
His pay rose from $541,000 to $568,000 over the past three full calendar years.
When Paterno retires, he will have to make a set of choices to determine his pension, including whether to designate a survivor to receive benefits after he dies and whether to obtain a one-time, lump-sum payment of his own contributions.
State Employees' Retirement System spokeswoman Pamela Hile said Internal Revenue Code and Retirement Code benefit limits may also apply, so the agency does not issue estimated pension benefits ahead of time. There also is a long-service supplement that could boost Paterno to 110 percent of his final average salary.
more