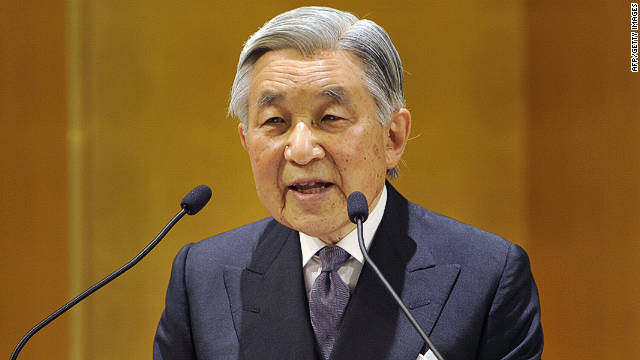 Japan's 77-year-old emperor was hospitalized on Sunday, several days after coming down with a fever, a spokesperson with the Imperial Household Agency said.
Emperor Akihito, a ceremonial but revered figure in the Japan, was suffering from a worsening case of bronchitis and the fever he contracted Thursday, according to the spokesperson, who declined to be identified due to the agency's media protocol.
"He appears to be fatigued and has lost some resistance to fight against sickness," the spokesperson said. "To be on the safe side, he was hospitalized (Sunday night) at University of Tokyo Hospital."
It is the emperor's second time in a hospital this year, after getting medical treatment in February for extensive tests of his coronary arteries.
Japan's Cabinet on Sunday approved a measure to temporarily elevate Crown Prince Naruhito to the role of emperor and give him power over all the responsibilities that position entails, according to a person at the Cabinet office, who also was not named per policy.
Born in Tokyo in December 1933 into a family that eventually consisted of seven children, Akihito became crown prince in 1952 -- the same year he enrolled at Gakushuin University, according to his official biography. Seven years later, he married then-crown princess, and now Empress Michiko, and together they raised three children.
more