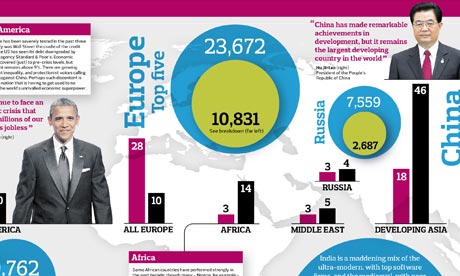 The French Riviera in November conjures up images of ageing playboys eking out the last rays of autumn sunshine on the Croisette over a pastis. So it may be fitting that Nicolas Sarkozy has chosen Cannes as the venue for this week's G20 summit, where the fading power of Europe's old world economies will be thrown into sharp relief by the nouveau riche arrivistes from China, India and Brazil.
Sarkozy's humiliating call to Beijing last week, asking if the Chinese would care to invest in the European financial stability facility, the huge euro bailout fund, was portrayed within China as grovelling. Guido Mantegna, Brazil's finance minister, rapidly issued a statement saying his country had no intention of taking part.
Silvio Berlusconi was also forced to bear his share of the humiliation, writing a letter to his eurozone neighbours promising to buck up his economic act, in return for a share of the aid package.
For Europeans, last week's events were a stark reminder that through a combination of their own economic mismanagement and the irresistible rise of a new generation of financial powers, the old continent's pre-eminence is a thing of the past.
Jonathan Loynes, chief European economist at the consultancy Capital Economics, says: "Clearly, the fact that Europe needs this money is a further demonstration of how its economic health has deteriorated, at least in the short term."
Charles Dumas, of Lombard Street Research, says: "The optimistic view for growth in Europe is 0%; the pessimistic scenario is depression."
more