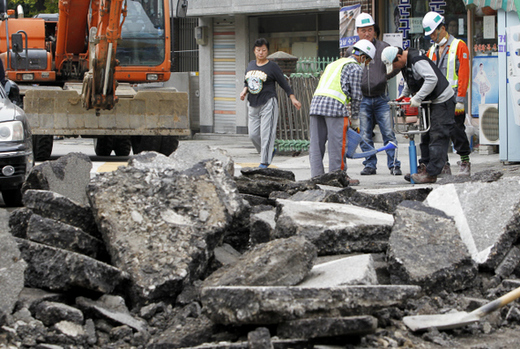 Employees of a construction company remove asphalt on the road where higher than normal levels of radiation were detected in the Wolgye neighborhood of Seoul's Nowon District, Nov. 4.
The Nowon District government decided to remove asphalt from two roads and repave them after it detected radiation 10 times higher than the permitted standard for an entire year for a 24 hour exposure. The district government believes the asphalt contains radioactive materials and also suggested the Seoul City government thoroughly investigate the roads across the city.
The fact that the asphalt was contaminated with radiation was first discovered by a farmer and investment consultant. Baek Cheong-joon, 42, who bought two instruments at 20 million won to measure and analyze radiation to protect his children worried of radioactive materials flying from Japan in the wake of Fukushima nuclear accident. He discovered the contaminated asphalt on Nov. 1, receiving a tip from a resident in the Wolgye neighborhood.