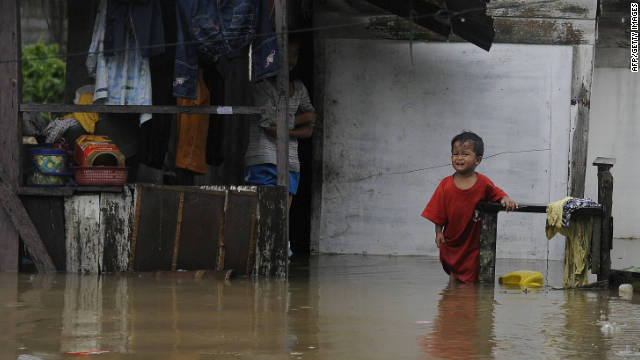 Flooding ravaged parts of southern Thailand on Thursday, with residents there joining their countrymen in Bangkok and beyond struggling with the effects of high water.
Parts of Songkhla province were declared disaster zones a day after rushing water swept away a 3-year-old child, So Hemakul, a provincial disaster and mitigation official, told the state-run MCOT news agency. The child's body was found Thursday.
Heavy rains led Songkhla Gov. Winyu Thongsakul to urge residents of 16 districts to brace for flooding. Already, more than 360 people in the area have been forced to evacuate due to water as deep as 2 to 4 meters (6.5 to 13 feet) in places.
Still, though the situation threatened to worsen, the scale of personal and economic devastation paled compared to that elsewhere in Thailand, including areas in the central part of the Southeast Asian nation such as Bangkok.
Earlier this week, the government reported on its website that 17 provinces -- at that point, not yet including Songkhla -- were experiencing severe flooding.
The damage already done this season has prompted an extensive, and expensive, government effort. On Thursday, the Flood Recovery and Restoration Committee requested nearly 13 billion baht ($415 billion U.S.) for various projects to help flood-ravaged areas, according to the government's website.
more