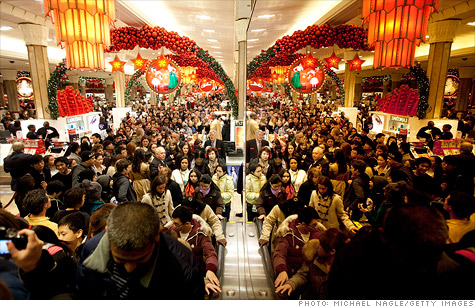 Larger -- and younger -- crowds jammed the nation's malls and big box stores on Black Friday, as a new generation got in on one of the biggest sales days of the year.
There were big crowds across the country as doors opened Thursday night. Due to earlier openings, the crowd at Columbia Mall in Grand Forks, N.D., was much bigger than in previous years -- and noticeably younger, too, according to Bill Reid, general manager.
Reid said shoppers made a beeline for fleece jackets at Victoria's Secret, a four-piece luggage set for $89.99 at JC Penney, and women's boots on sale for $19.99 at Macy's. "They were going like hotcakes and it was a disaster area," he said of the boots, which were entirely sold out within hours.
At the Herberger's in the Holiday Village Mall in Great Falls, Mont., the entire stock of comforters on sale for $19.97 sold out within an hour.
"This is the first year we've opened at midnight, and you almost couldn't get a parking space," said the mall's general manager Devin Hartley.
Along with bargain-basement goods, luxury stores at Woodbury Common Premium Outlets in New York were particularly popular, said spokeswoman Michele Rothstein. Lines formed outside of Coach and Gucci as early as 7 p.m. and deals such as an additional 50% everything at Cole Haan drew shoppers from all over, including a strong international contingent and even parents with strollers.
more