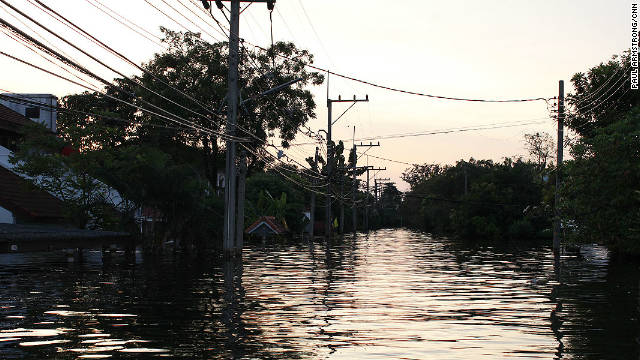 Arriving in central Bangkok from the sparkling international airport, a visitor might not know at first glance that much of the city is under water.
Shops and restaurants are open as usual, while the futuristic sky train continues to ferry commuters to work in the numerous office complexes that make up the central business district.
But just a few miles northwards along the Vibhavadi Rangsit highway, the road gradually disappears into a sea of filthy brown water -- floodwater from the north of Thailand that shows little sign of disappearing quickly.
This is due in large part to a system of floodgates set up to protect the commercial center of the city and other key industrial areas by diverting the run-off to these parts.
For almost a month, residents in outlying areas such as Rangsit and Lumlukka have been living in water that is often chest-high. Many defied government evacuation orders to protect their property, even if it meant being stranded with limited food and no clean running water.
Romeo Romei, a local businessman, lost his house and is battling to save his factory, but he still manages to take a boat out each day with his friend Alex Stamp and cousin Duccio Lucchesi to distribute water, food and clothes to those in need. Read More