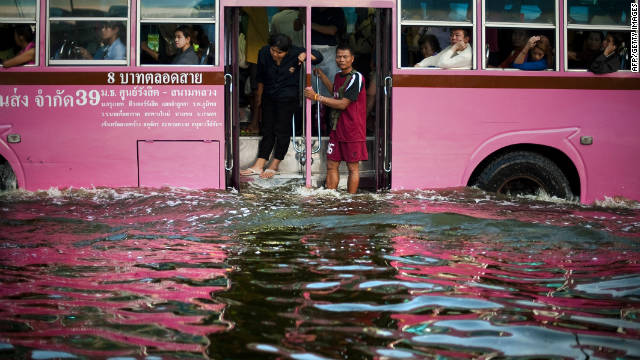 As filthy floodwater continued to seep towards central Bangkok, Thailand's Prime Minister laid out a three-point plan to get the country back on its feet after the worst flooding in 50 years.
Immediate aid will be issued to people whose homes and businesses have been destroyed by the deluge which has claimed more than 500 lives since July, Yingluck Shinawatra announced Tuesday.
"This disaster is the biggest that we have ever met. We're trying to cope with situation and help as much as we can," she said. "We can't stop all flooding but we will try to reduce the impact."
Aid packages will be offered to people to help restore homes and businesses as part of a short-term recovery plan over the coming year. Details are expected to be announced next week.
Longer-term plans include the formation of two committees, one to oversee reconstruction and future development and the other to manage water resources.
Yingluck acknowledged criticism of the official response to the disaster by setting herself a deadline of one year to win back public confidence. Read More