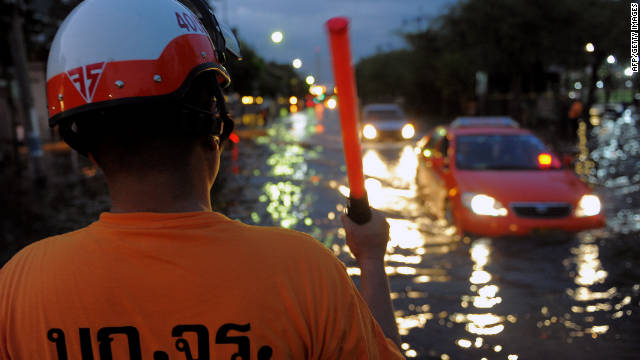 Thai officials warned residents in the capital to be vigilant and expect disruptions with electricity and tap water as the Asian nation battles its worst flooding in decades.
Central Bangkok avoided major flooding, but districts around it were covered in waist-deep water.
The danger was particularly pronounced at high tides. Several districts in Bangkok -- which barely sits above flood level -- are facing serious flooding, including one tied to a break in a flood barrier at Klong Mahasawat, according to the MCOT news agency.
The Thai government has set up more than 1,700 shelters nationwide, and more than 113,000 people have sought refuge in them, including 10,000 in Bangkok, according to Gov. Sukhumbhand Paribatra.
Government authorities are preparing to evacuate more people all across the municipality.
Prime Minister Yingluck Shinawatra said Saturday that flood waters would likely reduce by the first week of November if relevant agencies control the drainage. Read More