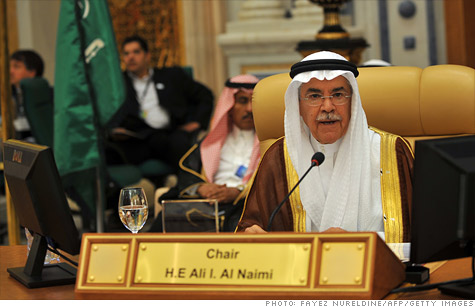 Saudi Arabia, one of the world's largest oil producers, may soon cut oil production.
The move, which some analysts believe may have already begun, comes in response to additional supplies coming online from elsewhere.
The country, which had ramped up production earlier this year in response to the Libyan crisis, has been eyeing the resumption of Libyan oil exports as well as gradually rising oil exports from Iraq.
Those rising exports, as well as the sluggish global economy, have caused crude prices to fall over the last few months, and Saudi Arabia's own budgetary constraints at home require the kingdom to support the price of crude at close to $100 a barrel.
Brent crude -- which the price of most oil is now pegged to as a result of an oversupply in the U.S. benchmark WTI -- has been trading in the $105 to $110 range for the last month. That's down from over $125 a barrel in April.
U.S. drivers have gotten a bit of a reprieve as a result. Gas prices have fallen from around $4 a gallon this spring to under $3.50 currently.
But for the Saudis, who promised $130 billion in housing subsidies and other social spending this past spring to help ward off Arab Spring protests at home, this is a dangerous trend.
more