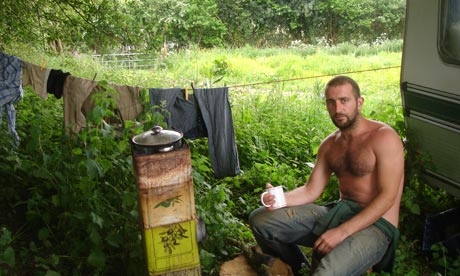 In six years of studying economics, not once did I hear the word "ecology". So if it hadn't have been for the chance purchase of a video called Gandhi in the final term of my degree, I'd probably have ended up earning a fine living in a very respectable job persuading Indian farmers to go GM, or something useful like that. The little chap in the loincloth taught me one huge lesson – to be the change I wanted to see in the world. Trouble was, I had no idea back then what that change was.
After managing a couple of organic food companies made me realise that even "ethical business" would never be quite enough, an afternoon's philosophising with a mate changed everything. We were looking at the world's issues – environmental destruction, sweatshops, factory farms, wars over resources – and wondering which of them we should dedicate our lives to. But I realised that I was looking at the world in the same way a western medical practitioner looks at a patient, seeing symptoms and wondering how to firefight them, without any thought for their root cause. So I decided instead to become a social homeopath, a pro-activist, and to investigate the root cause of these symptoms.
One of the critical causes of those symptoms is the fact we no longer have to see the direct repercussions our purchases have on the people, environment and animals they affect. The degrees of separation between the consumer and the consumed have increased so much that we're completely unaware of the levels of destruction and suffering embodied in the stuff we buy. The tool that has enabled this separation is money.
If we grew our own food, we wouldn't waste a third of it as we do today. If we made our own tables and chairs, we wouldn't throw them out the moment we changed the interior decor. If we had to clean our own drinking water, we probably wouldn't contaminate it.
more