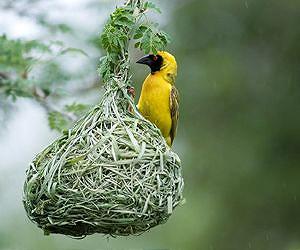 Nest-building is not just instinctive but is a skill that birds learn from experience, research suggests. Scientists filmed male Southern Masked Weaver birds in Botswana as they built multiple nests out of grass during a breeding season. Their findings contrast with the commonly-held assumption among scientists that nest-building is an innate ability.
The researchers found that individual birds varied their technique from one nest to the next. They also saw that some birds build their nests from left to right, and others from right to left.
Also, as the birds gained more experience in building nests, they dropped blades of grass less often, implying that the art of nest building requires learning.
Researchers from the Universities of Edinburgh, St Andrews and Glasgow together with scientists from Botswana say their findings may help to explain how birds approach nest-building and whether they have the mental capacity to learn, or whether their skills are developed through repetition.
Researchers chose the colourful African bird because they build complex nests, which is potentially a sign of intelligence. More importantly, Weaver birds build many nests - often dozens in a season, allowing the team to monitor differences in nests built by the same bird.
http://www.terradaily.com/reports/Feathered_friends_are_far_from_bird_brained_when_building_nests_999.html