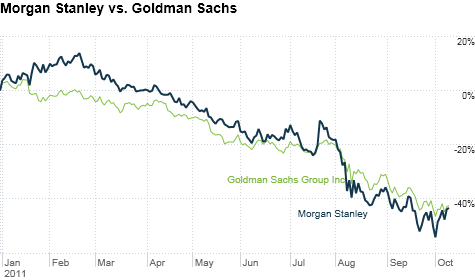 August and September's see-sawing stock market may have induced nausea among investors, but for Wall Street's major investment banks, this volatility has most likely taken a huge toll on profits.
As banks' third quarter earnings season kicks off Thursday with JPMorgan Chase (JPM, Fortune 500), investors are bracing to see how much damage was wrought by the expected steep drop in investment banking and trading revenue.
Those businesses have slowed considerably as the market volatility has caused merger and acquisition activity, initial public offerings and corporate debt deals to skid to a near standstill.
On top of that, analysts expect JPMorgan Chase, Morgan Stanley (MS, Fortune 500), Bank of America (BAC, Fortune 500), Citigroup (C, Fortune 500), Goldman Sachs (GS, Fortune 500) and Wells Fargo (WFC, Fortune 500) to announce new layoffs, in addition to the thousands they've already disclosed.
So far this year, Bank of America said it would cut 30,000 jobs and Goldman announced 1,000 layoffs. To a lesser extent, Morgan Stanley said it would cut 300 'underperfoming financial advisors.' The other big banks have so far avoided any big layoff announcements.
more