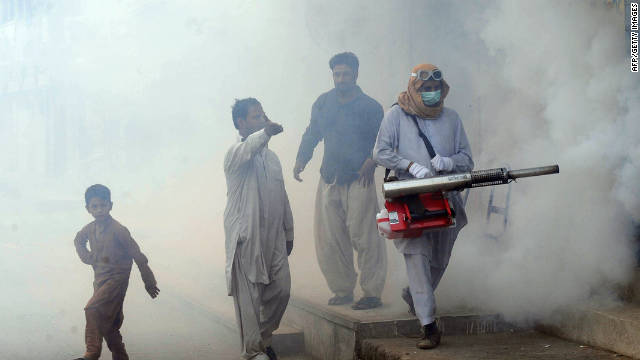 More than 12,000 have been infected and 125 people have died over the past two months in Pakistan after coming down with dengue fever, a health department spokesman said Friday.
The World Health Organization cited identical figures across Pakistan. According to a story Friday on a U.N. website, WHO spokesman Tarek Jasarevic said that his group is helping government and health authorities in Pakistan to manage the epidemic, increase public awareness and mobilize the local community.
The vast majority of the cases have been in Lahore, a city of more than 6 million people known as Pakistan's cultural capital. It lies near the border with India.
Ikhlaq Ahmed, a spokesman for the health department in Punjab province, told CNN there have been 116 deaths and more than 10,000 infections in the city. Read More
Signs and symptoms of dengue fever vary, depending on the form and severity of the disease.
Dengue fever
With the mild form of the disease, you may experience some or all of these signs and symptoms:
High fever, up to 105 F (40.6 C)
A rash over most of your body, which may subside after a couple of days and then reappear
Severe headache, backache or both
Pain behind your eyes
Severe joint and muscle pain
Nausea and vomiting
Sign and symptoms usually begin about four to seven days after being bitten by a mosquito carrying a dengue virus. Mild dengue fever rarely causes death, and your symptoms will usually subside within a week after starting.
Dengue hemorrhagic fever
More-severe forms of the disease usually begin the same way as the mild form (dengue fever) then become worse after several days.
Dengue hemorrhagic fever — a more severe form of the disease than initial dengue fever — can cause signs and symptoms of dengue fever plus:
Significant damage to your blood and lymph vessels
A decrease in the number of blood cells that help your blood clot (platelets)
Bleeding from the nose and mouth
Bleeding under the skin, which gives the appearance of bruising
Death
Dengue shock syndrome — Dengue shock syndrome — the most severe form of the disease — may cause signs and symptoms of mild dengue fever plus:
Severe abdominal pain
Frequent vomiting
Disorientation
Fluid (plasma) leakage from blood vessels
Heavy bleeding
A sudden drop in blood pressure (shock)
Death
Severe signs and symptoms may appear after your fever has improved. In a small number of cases, people with a severe form of the disease die of it. Modern supportive hospital care decreases this risk.