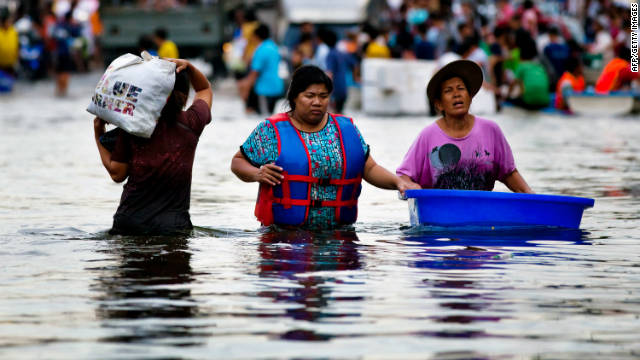 Severe flooding in Thailand on Saturday threatened central areas of Bangkok, a bustling capital barely above sea level and facing inundation at the next high tide predicted at 13 feet.
Residents who decided to stay in their homes despite government pleas to get out waited anxiously to see whether high tide, forecast for Saturday afternoon, would overwhelm defenses along the Chao Phraya River and its many canals.
Bangkok's outer suburbs were already submerged, but the central city had been largely spared the misery Thailand has been suffering for months in the nation's worst flooding since 1942. In the east and the north of the city, water was at waist-level in some neighborhoods, but in central Bangkok, it had been mostly dry.
The city was facing two converging threats, however.
Runoff the equivalent of 480,000 Olympic-size pools was flowing south to the sea through Bangkok, as high tide pushed the water in the opposite direction.
"The challenge is to manage the huge runoff from the north passing via the city on its way to the Gulf of Thailand," a Red Cross bulletin said.
Saturday's high tide, the Red Cross said, was expected to put "extreme pressure" on Bangkok's elaborate system of dikes and other flood defenses. Read More