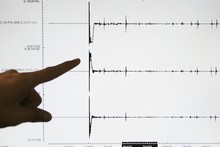 A large earthquake has struck near Raoul Island this morning, with a tsunami warning provisionally issued for New Zealand.
New Zealand's National Crisis Management Centre has been activated after the 7.3-magnitude quake struck at 6.57 am today, at a depth of 16km.
It was located 230 kilometeres east of Raoul Island and 310 kilometeres east of Macauley Island, according to GeoNet.
The Pacific Tsunami Warning Centre (PTWC) has issued a Tsunami Information Bulletin in response to the earthquake.
A tsunami is possible, but scientists are now assessing the severity of the threat to New Zealand.
Civil Defence are advising people in coastal areas to stay off beaches, stay out of the water, not to go sightseeing, to listen to the radio and to follow instructions from local Civil Defence authorities.
Raoul Island is the largest and northernmost of the main Kermadec Islands, about 1100 kilometres north-east of New Zealand's North Island. Source