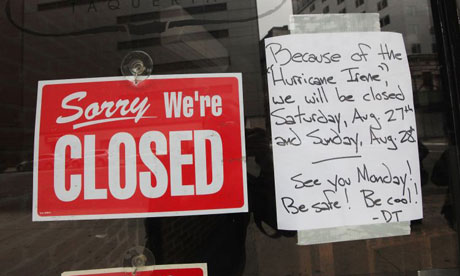 As deadly fires continue to burn across bone-dry Texas and eight inches of rain from tropical storm Lee falls on New Orleans, the US is beginning to count the cost of nine months of unprecedented weather extremes.
Ever since a massive blizzard causing $2bn of damage paralysed cities from Chicago to the north-east in January, nearly every month has been marked by a $1b+-weather catastrophe. According to the National Oceanic and Atmospheric administration (Noaa), there have been 10 major disasters already this year, leaving more than 700 people dead and property damage of over $35bn (£22bn).
In the past 31 years the mainland states have suffered 99 weather-related disasters where overall damages and economic costs were over $1bn. This year has seen three times as many than as usual.
Noaa will release its August data next week but Summer 2011 is expected to be the warmest on record. Chris Burt, author and leading weather historian, has complied a list of more than 40 cities and towns that have experienced record temperatures this year.
"So many heat records of various types have been shattered this past summer that it is impossible to quantify them," he said. "Not since the great heat waves of 1934 and 1936 has the US seen so many heat-related records broken as occurred this summer. The back-to-back nature of the intensity of the past two summers should raise some interesting questions, questions I am not qualified to address."
more