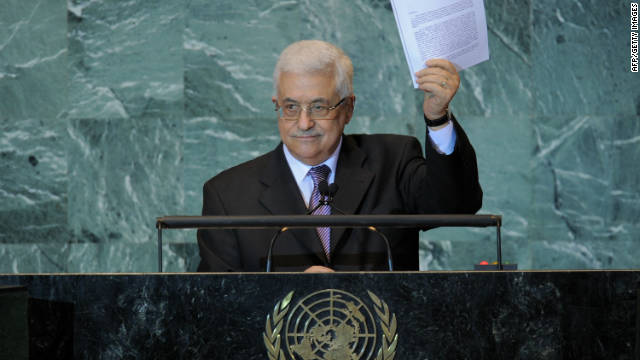 The historic Palestinian bid for statehood goes before the United Nations Security Council Monday, where it looks set for a largely symbolic debate in the face of a promised American veto.
Lebanon's Nawaf Salam, the Security Council president for this month, said he circulated the letter of application to all 15 members of the Security Council last week.
Palestinian Authority President Mahmoud Abbas made the bid for the United Nations to recognize an independent state of Palestine on Friday, a move Israel says is premature without direct talks that address its longstanding security concerns.
The formal application drew applause in the assembly when the Palestinian leader raised the document at the podium during his speech at the 66th annual session of the General Assembly.
The time has come for a "Palestinian Spring" to join the Arab Spring in reshaping the Middle East, he said. "My people desire to exercise their right to enjoy a normal life like the rest of humanity."
Behind Palestinian U.N. effort
But Israeli Prime Minister Benjamin Netanyahu, later taking his turn to address the General Assembly, said Palestinians are looking for a "state without peace," ignoring security concerns important to Israel.
Palestinians bid for statehood at U.N.
How to achieve U.N. membership
He said Palestinians are not armed only with their "hopes and dreams," as Abbas said in his speech. To that he added "10,000 missiles, and Grad rockets supplied by Iran, not to mention the river of lethal weapons flowing into Gaza."
more