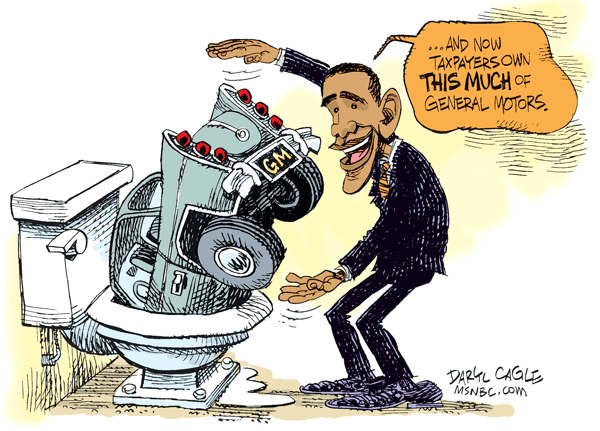 Earlier this year, President Obama went on one of his gloating tours, touting the wisdom of his nationalization of General Motors and Chrysler. Theirs was a corrupt bankruptcy that strongly rewarded the UAW, one of Obama's major financial contributors. The new GM then posted a few months of improved sales, leading to much crowing by all the corrupt cocks.
But lately, the road for what is derisively termed "Government Motors" has become rather bumpy, as illustrated in a recent story. The report is about how the New GM is trying desperately to get a dismissal of a class action lawsuit filed on behalf of 400,000 Chevy Impala owners.
The suit, filed by one Donna Truska, argues that the Impalas — made between 2007 and 2008 — had defective rear spindle rods, leading to rapid tire wear. The plaintiff claims that GM has breached its warranty, and demands that GM fix the cars.
But the new GM argues that since the cars were made by the Old GM, it is not liable for the repairs, and the 400,000 Impala owners should therefore go to hell. Of course, the New GM was only too happy to take over the losses of the Old GM so it could stiff other taxpayers out of future taxes on the New GM, but it doesn't want to assume any liabilities.
more