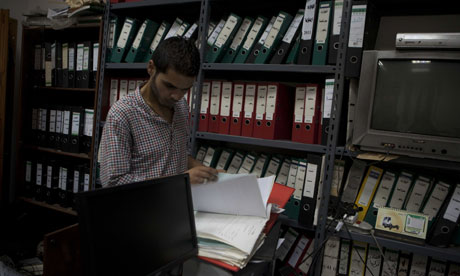 he hundreds of documents found abandoned in Tripoli last week give fascinating insights into the way the CIA and MI6 went about their daily business during the frantic period of late 2003 and early 2004.
In the wake of the September 11 attack and the invasion of Iraq, western intelligence agencies were desperate for information about extremists, and hoped that Libya could fill in some of the gaps.
The papers, assuming they are genuine, do not offer a complete picture, or even a partial one. Instead, they offer glimpses into the world of 21st-century espionage, and into the techniques and mechanics of a profession that necessarily conducts itself in the diplomatic shadows. They also show that intelligence gathering and sharing is a business conducted on an industrial scale.
There were numerous exchanges between the US, the UK and Libya over potential terrorist threats, but only one named an individual as a potential assassination target – Muammar Gaddafi's son, who is now wanted by the international criminal court for crimes against humanity.
At that time he was living in London as a student at the London School of Economics. The threat was obviously vague, but deemed serious enough to raise with the Libyans, and to involve MI5 and Scotland Yard.
On 6 January 2004, the CIA sent a letter to Sadeq Krima, head of Libyan international relations, titled "Threat to Saif al-Islam Gaddafi".
more