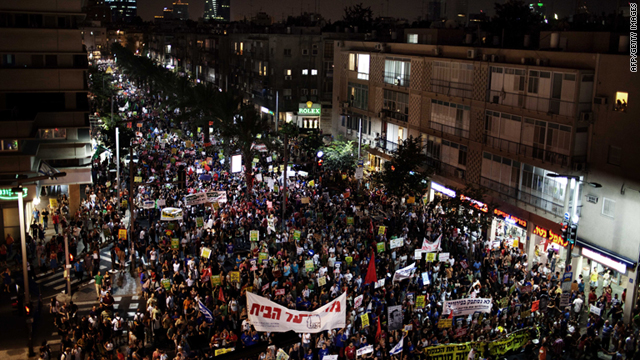 n what organizers are proclaiming to be the largest social protest in Israel's history, hundreds of thousands of Israelis took to the streets of Tel Aviv and other cities to protest the high cost of living in the country and demand government action.
The rallies on Saturday night are the latest action in a six-week-long social protest movement that began with a small group of activists pitching tents in an exclusive Tel Aviv neighborhood to protest high rents. It has culminated in a nationwide movement made up of a wide cross-section of Israelis calling for social justice in the Jewish state.
Organizers billed the protests the "March of the Million" and hoped a high turnout would help reignite political momentum for a movement that had recently slipped from the center of public attention following a high-profile terrorist attack in southern Israel more than two weeks ago.
Eight Israelis were killed in the attack, which prompted an escalation in tensions between Gaza-based militant groups and the Israeli military. That resulted in the death of some two dozen Palestinians and one more Israeli.
Israeli police spokesman Micky Rosenfeld told CNN that authorities estimated a nationwide turnout of 300,000, while local media reported a higher turnout ranging from 400,000 to 450,000.
more