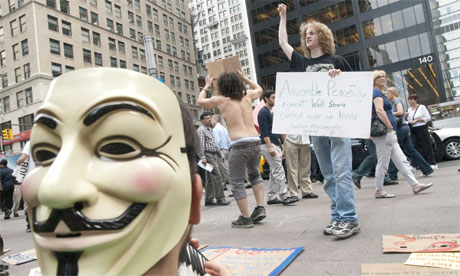 Defying harsh critiques from Stephen Colbert and slews of bloggers who scoffed last week at the "leaderless", "directionless", Frisbee-throwing hipsters camping out on cardboard at a random New York City park in the financial district, Occupy Wall Street appears to be gaining ground. From the modest 200 occupiers last week, numbers of protesters rose to an estimated peak of approximately 3,000 to 5,000 at the weekend's march. Media attention has grown exponentially.
After taking their inspiration from the Egyptian "one demand" model, Occupy Wall Street have now released their list of "one" demands, bringing much-needed clarity to their objectives. The movement has moved to reach out to a broader base, including labor unions. Last week's execution of Troy Davis also contributed to the growth of Occupy Wall Street as crowds of protesters in Zucotti Park, renamed Liberty Plaza, swelled to approximately 1,500 last Thursday night demanding an end to capital punishment.
Violence caught on camera over the weekend of police arresting approximately 80 protesters and, in one now-notorious case, apparently spraying mace into the faces of female protesters has generated an outcry over the NYPD's "cowardly" use of force on peaceful protesters. Thanks to these two incidents, says one protester, Danny Garza, "Occupy Wall Street has gotten bigger than we ever thought it could be."
more