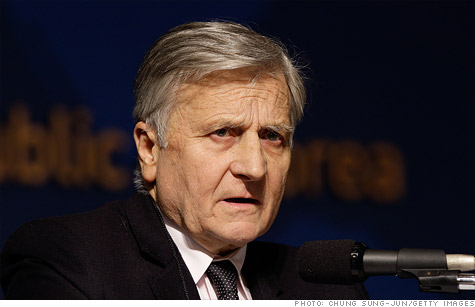 The European Central Bank cut its economic growth forecast and said there is a risk that growth will slow to a near standstill next year, but stopped short of warning of a new recession.
ECB President Jean-Claude Trichet said at a press conference following the bank's regular meeting that the central bank's forecast is now for growth of only 1.4% and 1.8% in 2011, and between 0.4% and 2.2% in 2012.
oth are down from earlier forecasts, and the risks to that gloomier outlook are now to the downside, rather than balanced as the ECB had previously said.
When asked if that meant that the 17 nations of the eurozone are at risk of falling into recession, Trichet dodged the question, saying it is difficult to make forecasts in the current situation.
"There is an enormous level of uncertainty," he said, adding that the uncertainty extends beyond Europe to other major economies around the globe.
more