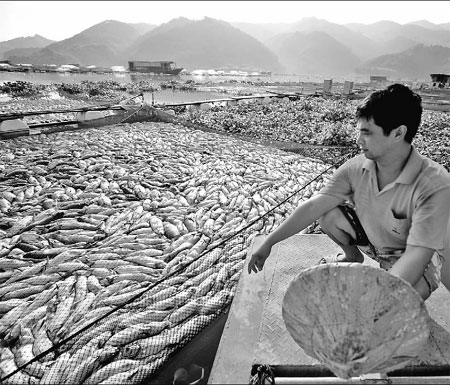 Some 9,000 tanks of fish, including about 8,000 in Shuikou town and some 1,000 in Huangtian town, were reported dead as of Saturday, according to a release from the government of Gutian county, which administers the two townships.
One tank usually holds 3,500 to 5,000 fish.
"We're calculating the number of the dead fish and economic losses," said Zeng Lisheng, a Gutian publicity officer.
The river's Shuikou section is Fujian's largest freshwater fish cultivation base, and it provides local markets with about 100,000 kilograms of fish a day during harvest seasons.
Zeng said that local fishery and environmental protection departments are investigating the case and examining the water, but the reasons for the fish die-offs are unknown.
"We're mobilizing people, ships and vehicles to scoop up the dead fish, and we will bury them deeply under nearby hills with quicklime to prevent them from harming the environment," he said.
An expert accompanying an official investigation team to the sites on Saturday said that a low level of dissolved oxygen in the water might have killed the fish, the local newspaper Southeast Express reported.

But Huang Zhongfa, a resident of Shuikou's Xilan village, said a lack of oxygen would not kill that many fish.
"Only hundreds of fish in a tank would die if the level of dissolved oxygen is insufficient. We also found that the fish turned white after they died. That is abnormal, and that phenomenon doesn't occur with deaths from oxygen insufficiency," he said.
"The water is black and has something like oil on the surface." Read More