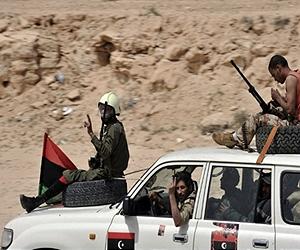 Al-Qaida in the Islamic Maghreb has stepped up attacks in Algeria amid growing fears that a surge of jihadists and plundered weapons from Libya threatens North African countries.
AQIM, composed mainly of hardened Algerian fighters who have fought the government since 1992, has increased the range and tempo of its attacks in Algeria's north in recent weeks.
Eighteen people, 16 of them army officers, were killed in a suicide bombing Aug. 26 on a military academy at Cherchell, 110 miles west of Algiers.
It was the third such attack since mid-July. The last suicide attack in Algeria was July 25, 2010. Other clashes have been reported in Mali and Mauritania.
more
(Interestingly, and something that can be agreed with, the photo's caption goes as follows:
"What they really mean is that they fear the rest of Africa might rise up and kick their own despotic failed governments out." Hear, hear.)