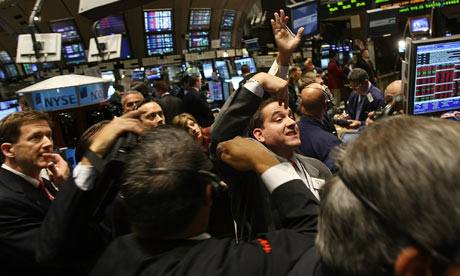 The F word is back. Back in the financial markets, back in the conclaves of central bank governors, back among the manufacturers and the high-street retailers. The four-letter word is fear.
Back in the spring, few imagined that we would be approaching the third anniversary of the collapse of Lehman Brothers on 15 September with such a sense of unease. The belief in early 2011 was that economic recovery was now well enough embedded for central banks to start raising interest rates and for finance ministries to crack on with the job of reducing budget deficits.
Although pockets of optimism remain, the mood today is different. Ben Bernanke, the chairman of the Federal Reserve, has said the US central bank will discuss possible ways to stimulate growth when it meets next month. The Bank of England appears to be heading in a similar direction. There is anxiety at the International Monetary Fund that blanket austerity will tip fragile western economies back into recession. Concerns are once again being expressed about the health of the banks, about America's national debt and, above all, about whether the eurozone can survive its current crisis intact.
Standard Chartered and HSBC were the two UK-based banks to emerge relatively unscathed from the first financial crisis, partly because their global reach allowed them to benefit from the rapid recovery in Asia. This, though, is how the chief economists at the two banks see things.
"America is drowning in debt, Europe is imploding as problems in the euro area intensify, while, in contrast, Asia's economy is cooling, as growth rates moderate from a strong to a solid pace," says Gerard Lyons at Standard Chartered. Putting the possibility of a recession in the US as high as one in three and of an eventual euro crisis as high as one in two, Lyons adds: "It should be little surprise that there is increased uncertainty and heightened risk aversion across financial markets."
more