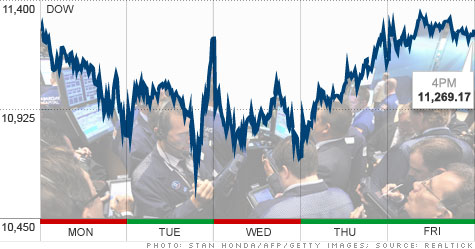 Brace for more turbulence.
This week could be just as bumpy as last week's wild ride, as Wall Street continues to deal with the fallout of S&P's downgrade, the problems in Europe and the fate of the U.S. economy.
"Investors are grappling with two primary questions: Will the U.S. slip into another recession, and will the euro survive?," said Hans Olsen, head of Americas investment strategy for Barclays Wealth, a division of Barclays Capital.
On the issue of the euro, the main event will be German Chancellor Angela Merkel's meeting with French President Nicolas Sarkozy in Paris on Tuesday.
The stakes have never been higher for the eurozone and the leaders of the euro's two largest economies. Speculation is building about whether Italy and Spain have unsustainable debt levels -- and whether European officials have the political power necessary to save the 12-year old currency, possibly through some some sort of "pan-European" bond fund.
To further complicate things, there are growing concerns France may lose its own "AAA" credit rating following Standard & Poor's downgrade of the United States last week. It was in part these fears that caused the Dow to plunge 520 points on Wednesday.
(more)