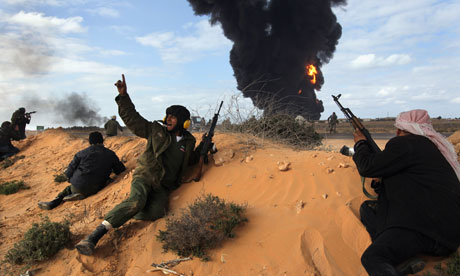 Rebels said they arrested dozens of militiamen loyal to Moamer Qadhafi in their eastern bastion but suffered a blow on Monday in Libya's west, losing a village at the foot of a key mountain range.
At least 63 people were rounded up in an ongoing bid to tighten security in the eastern city of Benghazi, following an hours-long battle with Qadhafi loyalists in the opposition stronghold.
But in western Libya, pro-Qadhafi forces wrested back control of the village of Josh at the foot of the strategic Nafusa Mountains, AFP journalists at the scene said. Josh had been emptied of its residents, the rebels said. The rebels captured the village on Sunday but said they were forced to retreat to the east, half-way along the road to the town of Shakshuka, after several hours of fighting.
The Nafusa region has seen heavy fighting between rebels and forces loyal to Qadhafi since the insurgents launched a major offensive this month in a drive on the capital Tripoli.
An AFP correspondent in Tripoli, meanwhile, said at least eight powerful explosions rocked the eastern suburbs of the Libyan capital on Monday, sending up a plume of black smoke over the Tajura district.
In Benghazi, opposition forces patrolled the streets overnight in a bid to track down more members of the pro-Qadhafi group, a rebel spokesman said, as shoppers stocked up for Ramazan, the Muslim holy month of fasting.
(more)