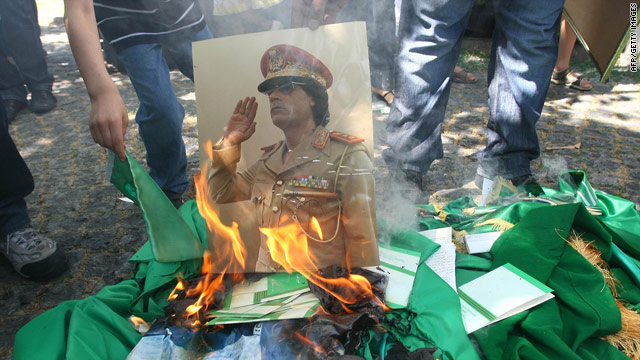 The 42-year rule of Moammar Gadhafi appeared on the verge of collapse Monday, with rebel supporters making it to the same Tripoli square where regime loyalists had congregated for month.
But in a possible indication that the fight is not over, celebrations in Tripoli's Green Square gave way to tension Monday morning after rebels told CNN that they'd heard Gadhafi army forces were heading their way. CNN could not confirm any movement of Gadhafi forces.
Here are some of the latest developments of the fighting in Tripoli, the latest installment of battles in a months-long uprising in Libya.
[Updated at 10:25 a.m. ET, 4:25 p.m. in Libya] A senior State Department official tells CNN that, up until the last minutes before the rebel offensive on Tripoli began, senior Libyan officials close to Moammar Gadhafi were trying to reach out to the U.S. in a desperate attempt to stop the "inevitable."
In a telephone interview from Cairo Assistant Secretary of State for Near Eastern Affairs Jeffrey Feltman said that, until Saturday night, six officials with whom the U.S. had previous contact were still trying to reach out to the Obama administration but were taking a "defiant" approach, saying they were ready to negotiate but it would not be about Gadhafi leaving.
more