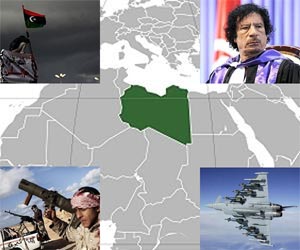 Forces loyal to Moamer Kadhafi are no longer able to launch a credible military offensive, NATO's top Libya commander told AFP Thursday, as rebels look to gain momentum in overthrowing the strongman.
"The Kadhafi regime's forces continue to be weakened, both in strength and their will to fight," Canada's Lieutenant-General Charles Bouchard said, speaking from his Italy headquarters, as rebel troops made new advances.
"They are no longer able to launch a credible offensive," he added.
NATO was authorized in March by UN Security Council resolution 1973 to defend Libya's civilian population from attacks by Colonel Kadhafi's regime, which faces a popular revolt after 42 years in power.
As NATO-led airstrikes have helped the rebels on the ground without managing to decisively turn the tide in the conflict, Bouchard said Kadhafi has brought in fighters from other African countries to bolster his embattled forces.
"We're seeing lots of mercenaries, ruthless mercenaries that come from other countries and are enlisted by Kadhafi's forces to inflict extreme violence on men, women and children," Bouchard said.
"The recruiting of these mercenaries continues," he said.
(more)