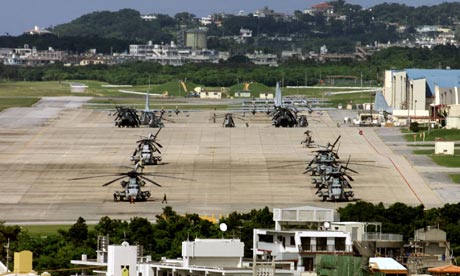 A US official who until March was in charge of American policy towards Japan has warned that unless agreement is reached soon over the transfer of a US marine base in Okinawa, Washington will drop the plan to reduce its military footprint on the island.
Kevin Maher, who was sacked as director of the US state department's office of Japan affairs in March after reportedly making disparaging remarks about Okinawans, said disagreement over the future of the base threatened to prolong the island's burden of hosting about half of the 47,000 US troops in Japan.
Under a 2006 agreement, Futenma base, situated in a city, is to be relocated to a coastal area of Okinawa and 8,000 US marines and their families transferred to Guam by 2014.
Local opposition to the move – many Okinawans want the base moved off the island in southern Japan altogether – recently forced the countries to drop the deadline.
"If decisions are not made very clearly in the next few weeks to go forward with the realignment plan, Futenma is probably going to stay where it is," Maher said in Tokyo during a speech to promote his book, The Japan That Can't Decide.
more