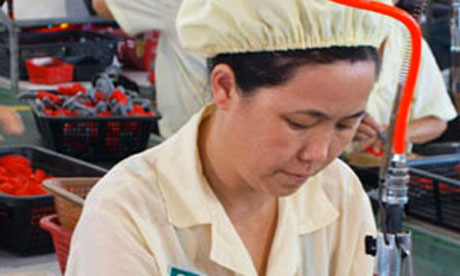 Disney's best-selling Cars toys are being made in a factory in China that uses child labour and forces staff to do three times the amount of overtime allowed by law, according to an investigation.
One worker reportedly killed herself after being repeatedly shouted at by bosses. Others cited worries over poisonous chemicals. Disney has now launched its own investigation.
It is claimed some of the 6,000 employees have to work an extra 120 hours every month to meet demand from western shops for the latest toys.
The factory, called Sturdy Products, makes toys for the giant Mattel company, which last month announced quarterly profits of £48m on the back of strong sales of Barbie dolls and Cars 2 toys. Sturdy Products, in the city of Shenzhen, also makes toys for US superstore chain Walmart. Among the brands produced are the Thomas the Tank Engine range, Matchbox cars, Cars, Toy Story, Barbie and Fisher Price products, Scrabble and the Hot Wheels sets.
The undercover investigation was carried out with the help of human rights group Sacom (Students and Scholars Against Corporate Misbehaviour), which helped to expose abuses in Apple's Foxconn plant in China this year.
Workers were interviewed away from the factory, and an investigator then spent a month working inside it to gather more information. He found evidence of the use of child labour and illegal working hours, along with concerns over the use of poisonous chemicals.
more