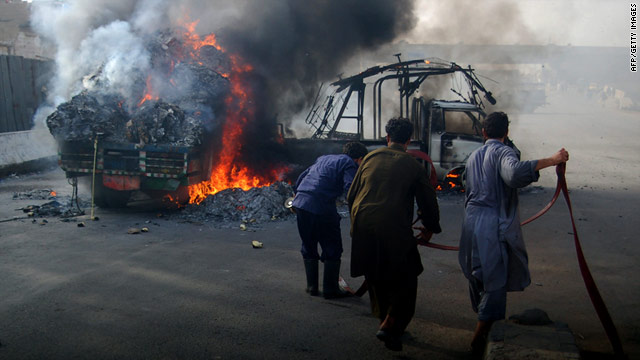 At least 30 people were killed in Karachi on Monday night and Tuesday, the latest deaths in cycle of ethnic and political violence in Pakistan's commercial capital.
On Sunday, 60 motorcycles and five vehicles were burned in the city, said Murtaza Ali, a Karachi police official.
The violence has killed more than 1,000 people this year, according to the Human Rights Commission of Pakistan. Nearly 200 people were slain in July alone.
The rampant violence appears to have little to do with the Taliban and other Islamist extremist groups that are viewed by western leaders as Pakistan's most pressing security problem.
Rather, police and government officials say the violence is fueled by bitter ethnic rivalries and political parties vying for power in this mega-melting pot, home to roughly 15 million people from at least a half-a-dozen ethnic groups.
Three political parties are usually at the center of the fight for power in Karachi: the Muttahida Qaumi Movement (MQM), the Awami National Party (ANP), and Pakistan's People Party (PPP).
(more)