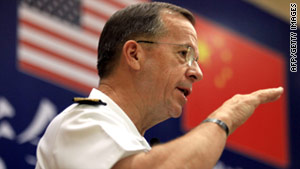 The top U.S. military officer declared Sunday that China "has arrived as a world power," and that previous U.S. descriptions of China as a "rising power" are now a thing of the past.
U.S. Chairman of the Joint Chiefs of Staff Adm. Mike Mullen made the remarks during an address at a university in Beijing at the start of a four-day visit.
"China today is a different country than it was 10 years ago, and it certainly will continue to change over the next 10 years," Mullen told the audience at Renmin University. "It is no longer a rising power. It has, in fact, arrived as a world power."
In January, U.S. Secretary of State Hillary Clinton described China as a "rising power."
"The United States is changing as well," Mullen added in his remarks, "as are the context and global order in which both our countries operate. I believe that our dialogue needs to keep pace with these changes. It needs to move from working out the particular issues and conditions of our bilateral relationship to working together to meet broader -- and common -- goals we share."
The chairman touched on some specific concerns, including the growing territorial disputes over the South China Sea and its potentially huge reserves of oil and natural gas.
(read more)