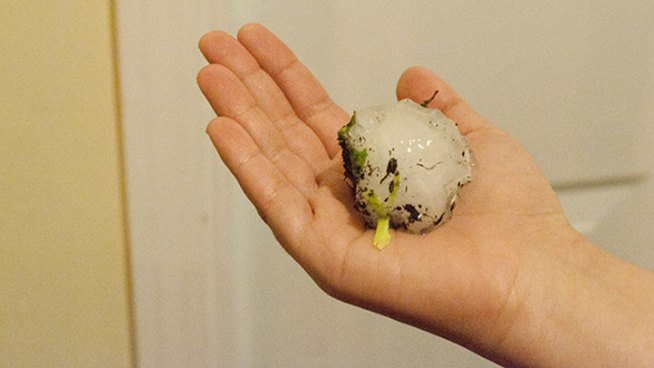 A fast-moving storm with destructive hail and wind gusts blew through Chicagoland Thursday evening.
Photos of hailstones on the ground -- some said to be the size of golf balls -- gave the appeance of a snowstorm on the eve of July.
The "supercell" thunderstorm was following the path of the jet stream and moving southeast. It should be completely out of the Chicago area by 11 p.m., though rain will likely persist in Indiana until the early-morning hours.
The storm blew in from the lake and caused problems along the lakefront. Three sailboats capsized at Montrose Harbor.
At 9:30 p.m. Thursday, Commonwealth Edison said roughly 50,000 of its customers were without power in the wake of the storm. This comes a little more than a week after nearly 440,000 customers were put in the dark from another series of storms.
The weather story on Friday will be summed up by one word: hot. Temperatures are expected to reach to the mid- to upper-90s with a heat index around 105.
If those predictions prove accurate, it would be nearly 20 degrees hotter than the average high for this time of year, which is usually in the lower 80s. Source