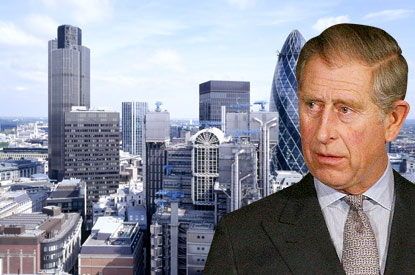 Any fan of the royal family driving past the Punchbowl industrial park in Hemel Hempstead, Hertfordshire, is unlikely to think twice about the grey warehouses Yet this drab piece of commercial real estate now has its own blue blood connections.
The large Wickes distribution depot at one corner of Punchbowl may be a far cry from the grand surroundings of Highgrove, the rolling hills of Dartmoor or the 'idyllic' Poundbury village in Dorchester. But like all these chunks of valuable real estate, the Wickes warehouse is now proudly owned by Prince Charles.
An Observer investigation has revealed that the heir to the throne is reaping record returns from property acquisitions channelled through the Duchy of Cornwall, Charles's 700-year-old estate given to him by his mother in 1969 as a 21st birthday present.
Next week the Duchy of Cornwall's finances will for the first time come under independent public scrutiny. On Monday 7 February, the powerful House of Commons Public Accounts Committee will begin calling witnesses as they probe the inner workings of the opaque Duchy accounts. As our analysis shows, MPs on the committee will have plenty to quiz the royal accountants about.
Unlike the Queen, who is paid through the Civil List, Charles gains his money through the duchy. Last year his estate awarded him an income of almost £12 million - a 20 per cent rise on the previous year. An analysis of the duchy's historic accounts reveals that since 1993, when the Prince of Wales was paid £2.9m, he has enjoyed a 300 per cent pay rise. This is equivalent to more than 25 per cent a year during a period when average earnings rose by 5 per cent a year.
In large part, Charles' soaring pay has come from the transformation of the duchy into a huge commercial enterprise. It still owns vast tracts of land, including 70,000 acres in Devon, 18,000 acres in Cornwall, 15,000 acres in Somerset and practically all of the Isles of Scilly. He still also owns landmark properties such as the Oval cricket ground in London.
But Charles has also been collecting office blocks, retail outlets and a string of businesses in a series of astute transactions which belie the commonly held belief that Charles is little more than a do-gooder who talks to plants.
(read more)