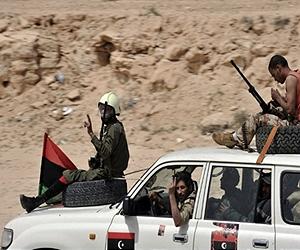 Buoyed by French arms drops and intensified NATO air strikes on the regime's frontline armour, Libya's rebel army said it is poised for an offensive that could put it within striking distance of Tripoli.
The rebels' announcement late on Saturday came as a prolonged deadlock on the battlefield prompted mounting pressure from countries outside the NATO-led coalition for a negotiated solution to a conflict that has dragged on for four and a half months.
South Africa, which has taken a lead role in mediation efforts, said that President Jacob Zuma would hold talks in Moscow on Monday with representatives of the International Contact Group on Libya as well as Russian officials.
Politically, the rebel National Transitional Council received a boost on Sunday when Turkish Foreign Minister Ahmet Davutoglu said Ankara recognised the NTC as the legitimate representative of the Libyan people.
Rebel fighters are readying an advance out of their hilltop enclave in the Nafusa Mountains, southwest of Tripoli, in the next 48 hours in a bid to recapture territory in the plains on the road to the capital, spokesman Colonel Ahmed Omar Bani said.
"In the next two days the (revolutionaries) will come up with answers, things will change on the front line," he said. (read more)