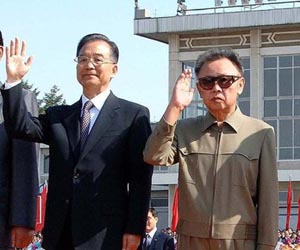 North Korea's leader Kim Jong-Il showed to a visiting Chinese delegation that his youngest son is firmly on the succession path, analysts said Wednesday.
The senior Kim Tuesday received a Chinese communist party delegation visiting the North to mark the 50th anniversary of a friendship treaty, the official Korean Central News Agency (KCNA) said.
The leader, who suffered a stroke in August 2008, has been grooming his youngest son Jong-Un as eventual successor in an attempt to extend the family dynasty into a third generation.
Jong-Un last September was made a four-star general and given senior posts in the ruling communist party.
KCNA named the son first when it listed guests at Tuesday's reception.
It quoted leader Kim as telling his guests that the two countries, which are close allies, had "powerfully demonstrated before the world the tremendous vitality" of their friendship.
That bond would remain unchanged "no matter how much water flows under the bridge and no matter how frequently a generation is replaced by another", he added.
Professor Yang Moo-Jin, of Seoul's University of North Korean Studies, said: "Through this meeting with Chinese delegates, Kim Jong-Il underscored that the junior Kim is well on the path to becoming an eventual successor with cooperation and support from China."
"He was also sending a message to China that the two countries should carry on their friendship to the next generation," Yang told AFP. (read more)